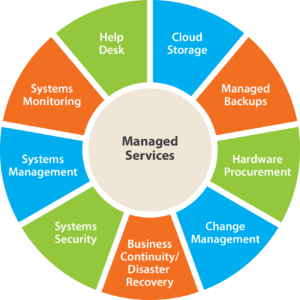 At Dominant-IT, we understand that technology is the driving force behind your business's success. Our mission is to deliver innovative, comprehensive, and cost-effective managed IT services, allowing you to focus on your core operations while we manage your technology infrastructure. As a trusted partner, we are committed to keeping your systems running smoothly, securely, and efficiently, so you can achieve your business goals with confidence.
Our Services
Dominant-IT offers a wide range of managed IT services to meet the unique requirements of your business. Our expert team provides end-to-end solutions, including:
24/7 Monitoring and Management: We proactively monitor your IT infrastructure to identify and resolve issues before they impact your business. Our around-the-clock support ensures that your systems are always available and performing optimally.

Cybersecurity Solutions: Safeguard your critical data and protect your business from potential threats with our comprehensive cybersecurity solutions. We implement multi-layered security measures, including firewalls, intrusion detection systems, and secure access controls to keep your business secure.

Cloud Services: Leverage the flexibility and scalability of cloud computing with our cloud services. We offer a range of solutions, including cloud migration, infrastructure management, and data backup and recovery, to help your business harness the power of the cloud.

Network Design and Implementation: Ensure reliable connectivity and optimal performance with our network design and implementation services. We assess your current infrastructure and design a robust network that supports your business's growth and evolving needs.

Hardware and Software Support: Keep your hardware and software up-to-date with our expert support. We provide installation, configuration, and maintenance services, ensuring your systems are always functioning at their best.
Why choose Dominant-IT?
Expertise: Our certified and experienced IT professionals are committed to delivering the highest quality of service, staying current with the latest industry trends and best practices.

Personalized Approach: We take the time to understand your business and its unique challenges, tailoring our services to meet your specific needs and goals.

Proactive Support: We believe in preventing issues before they occur. Our proactive approach to IT management minimizes downtime and helps you avoid costly disruptions.

Scalable Solutions: As your business grows, so do your technology needs. Our scalable solutions grow with you, ensuring you always have the right level of support.

Customer Satisfaction: At Dominant-IT, your satisfaction is our top priority. We strive to build lasting relationships with our clients, providing exceptional customer service and ongoing support.